AquascapePRO Pump Flow Chart

AquascapePRO Pump Specs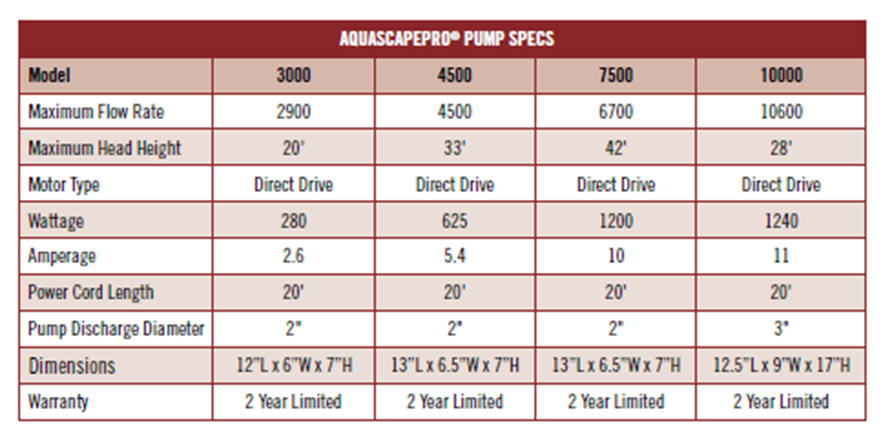 Troubleshooting
CAUTION! Always disconnect the pump from the electrical power source before handling. If the system fails to operate properly, carefully read instructions and perform maintenance recommendations. If operating problems persist, the following chart may be of assistance in identifying and correcting them.
MATCH "CAUSE" NUMBER WITH CORRELATING "CORRECTION" NUMBER.
NOTE: Not all problems and correction will apply to each pump model.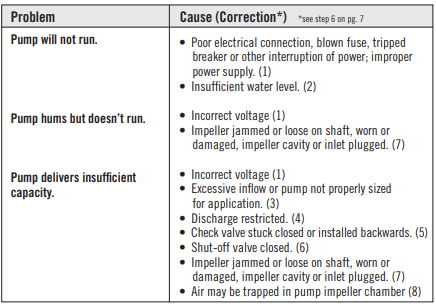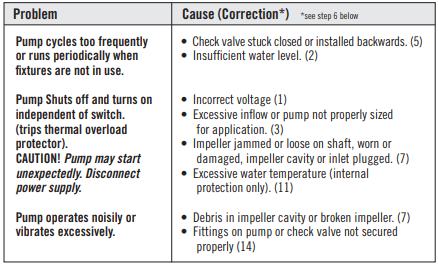 Corrections
1. Check all electrical connections for security. Have electrician measure current in motor leads, if current is within ±20% of locked rotor Amps, impeller is probably locked. If current is 0, overload may be tripped. Remove power, allow pump to cool, then recheck current.
2. Make sure water level is at or close to proper height on skimmer face plate. (see below)
3. Recheck all sizing calculations to determine proper pump size.
4. Check discharge line for restrictions, including ice if line passes through or into cold areas.
5. Remove and examine check valve for proper installation and freedom of operation.
6. Open valve.
7. Check impeller for freedom of operation, security and condition. Clean impeller cavity and inlet of any obstruction.
8. Remove pump or tilt pump to allow trapped air to escape from impeller chamber.
9. Check rotation. If power supply is three phase, reverse any two of three power supply leads to insure proper impeller rotation.
10. Repair fixtures as required to eliminate leakage.
11. Check pump temperature limits & fluid temperature.
12. Replace portion of discharge pipe with flexible connector.
13. Check for leaks around basin inlet and outlets.
14. Check fittings and tighten if needed.
Please review the Instruction Manual for more in depth troubleshooting.
AquascapePRO-3000-Pump-20002.pdf
AquascapePRO-4500-Pump-20003.pdf
AquascapePRO-7500-Pump-20004.pdf
AquascapePRO-10000-Pump-20006.pdf
If you have questions about these pumps, please Email Us