Overview of the LED Lighting
Troubleshooting - ITEM #84031, ITEM #84032, ITEM #84033, ITEM #84034
• Lights are dim or won't turn on
– Check for loose connections
– Make sure the outlet is receiving power
– Make sure the ground-fault circuit interrupter (GFCI) is not tripped
– Check to verify that the lights are receiving the correct voltage
– Verify that the photocell is functioning properly
– Verify proper transformer loading
– Verify that long cable runs are not causing voltage drop
• Lights won't turn off
– Verify that the photocell (not included) is functioning properly
Troubleshooting - ITEM #84008, ITEM #84009
• Light is not illuminating
– The bulb connection may be loose. Check to make sure the LED is fully inserted into the socket.
– Power to the light has been lost. Check lighting to make sure all connections are fully connected and the ground fault breaker is not activated.
– LED bulb could be beyond its life expectancy. Replace the bulb with a new G4 3-Watt LED bulb.
Wiring Diagram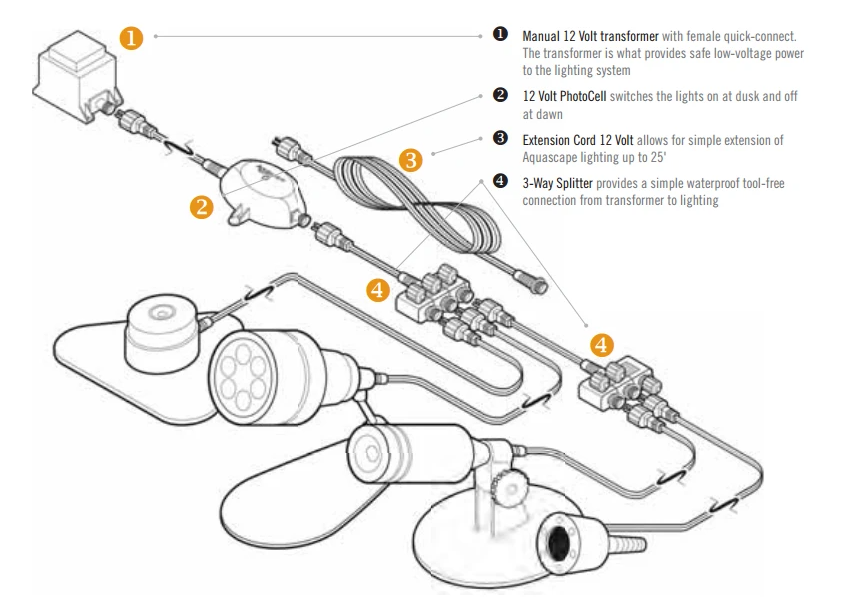 If you have questions about this product, please Email Us